Join us for an intimate recital of Flamenco and Classical guitar by artists Berto Boyd (Artistic Director of Corvallis Guitar Society) and Mario Diaz (Oregon Guitar Quartet). This is an event not to be missed! We hope you will help us grow our Fireside family by inviting a guest who is new to our series, or perhaps a potential music program supporter.
Tickets are $65 per person
Available online at: www.oldmillcenter.org
Choose "Tickets: Fireside Recital Series" as a donation type, enter $65 per ticket being purchased, then add your name (and your guests' if applicable) to the Additional Information field at the bottom of the form.
OR call (541) 757-8068 ext. 111 to purchase tickets over the phone.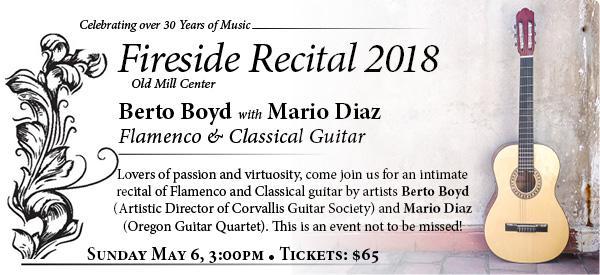 ---